Mines
There are areas of the Baltic Sea that still has a high number of old mines, ammunition and chemical weapons originating from the two world wars. These objects might still be dangerous if you encounter them.
Areas with enhanced risk of mines within Swedish territorial waters and the Swedish economic zone are shown on this page.
The information is produced by the Swedish Armed Forces in collaboration with the Swedish Maritime Administration and the Swedish Transport Agency.
The Armed Forces has a government assignment to, together with the Coast Guard and the National Police Board, provide information on mines, measures if you encounter a mine, unexploded ordnance (OXA), chemical weapons at sea, etc.
The Armed Forces can provide more information about mines to contractors when planning activities on the seabed.
International co-operation between military authorities in the Baltic Sea Region is underway with the aim of locating and clearing mines.
If you encounter a mine
If an object is found that can be suspected to be a mine, ammunition or mustard gas container, the object should be handled by a professional.
Keep this in mind if you come across a potential hazardous object in Swedish waters:
Call 112! Ask to be connected to the Maritime and Air Search and Rescue Center (JRCC) and describe the situation.
Alternatively call "Sweden rescue" on VHF channel 16.
Should a hazardous object be found, and then released back into the water, the location must be marked out and reported.
Objects that are suspected to be dangerous must not be brought to a port or inhabited area.
Fishermen, sea contractors, divers and others who work in areas where there is a risk of encountering chemical weapons should have access to remediation agents, to be able to start treatment as soon as possible after exposiosure.
Products for treatment are ordered from Apoteket.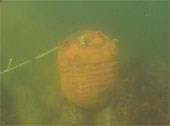 Risk areas
Remaining Swedish and foreign mines may occur in marked areas below. Increased risk during anchoring, trawling and other seabed activities.
Below is a more detailed list of the specific areas and the type of mines identified. For a more detailed map image, click on the link to each area.
The geodetic reference system for the maps in the list shown below is WGS84
| | | | |
| --- | --- | --- | --- |
| Risk areas 1 and 2 | Area 1: Swedish mines of type M/18 and M/31 from the 2:nd world war | Area 2: Swedish mines (MF:1) from the 2:nd world war | |
| Risk areas 3 and 4 | Area 3: Swedish mines of type M/31 from the 2:nd world war | Area 4: German mines of type EMA/EMB and UMA from the 1:st and 2:nd world war | |
| Risk areas 5 and 6 | Area 5: British mines of type Mk XVI from the 2:nd world war | Area 6: British mines of type H2 from the 1:st world war | |
| Risk area 7 | Area 7: Swedish mines (MF:1) and M/31 from the 2:nd world war | | |
| Risk area 8 | Area 8: German mines of type EMA/EMB and UMA from the 1:st world war | | |
| Risk area 9 | | | |
| Risk area 10 | Area 10: Russian mines of type PLT or ZL from the 2:nd world war | | |
| Risk area 11 | Area 11: German mines of type EMC and SpB from the 2:nd world war | | |
| Risk area 12 and 13 | Area 12: German mines of type EMC and SpB from the 2:nd world war | Area 13: Russian mines of type M/08 and/or M/12 from the 1:st world war | |
| Risk areas 14 | Area 14: German mines of type C/77, UMA and EMA from the 1:st world war | | |
| Risk areas 15, 16 and 17 | Area 15: Swedish mines of type M/31 from the 2:nd world war | Area 16: Swedish mines of type M/31 from the 2:nd world war | Area 17: Swedish mines of type M/31 from the 2:nd world war |
| Risk areas 18 and 21 | Area 18: German mines of type EMA/EMB from the 1:st world war | Area 21: German mines of type EMA/EMB from the 1:st world war | |
| Risk areas 19 and 22 | Area 19: German mines of type EMA/EMB and UMA from the 1:st world war | Area 20: German mines of type EMA/EMB from the 1:st world war | |
| Risk area 20 | Area 20: German mines of type EMA/EMB from the 1:st world war | | |
| Risk areas 23 and 24 | Area 23: German mines of type EMA/EMB from the 1:st world war | Area 24: German mines of type EMA/EMB from the 1:st world war | |
| Risk areas 25 and 26 | Area 25: German mines of type EMA/EMB from the 1:st world war | Area 26: German mines of type EMA/EMB from the 1:st world war | |
| Risk areas 27 and 28 | Area 27: Russian mines of type M/08 and/or M/12 from the 1:st world war | Area 28: Russian mines of type M/08 and/or M/12 from the 1:st world war | |
| Risk area 29 | Area 29: Swedish mines of type M/14, M/18, M/18u, M/25, M/31, F/3, F/5 and Russian mines of type M/08 and/or M/12 from the 1:st and 2:nd world war | | |