Contacts
Contacts to the Swedish Icebreaking management and local representatives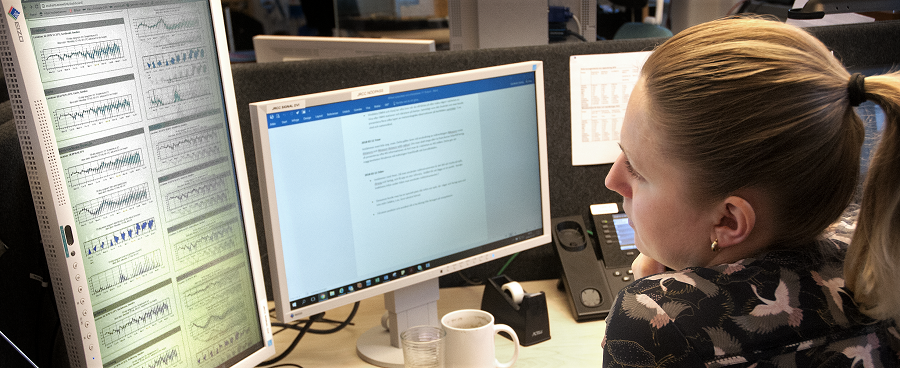 The Swedish Icebreaking Management OPC
The Swedish Icebreaking Management is the central hub of all state icebreaking in Sweden and office is located in Norrköping. The icebreaking management monitors the traffic, ice and weather conditions daily during the winter season and decides on restrictions, exempts and the geographic areas for the icebreakers.
Telephone: +46 (0)771-632525 during office hours, 08:00-16:30 CET.
For urgent operative matters outside office hours, on-call duty is reached via the same number.
E-mail: opc@sjofartsverket.se
The Ice Info service
Within the Swedish Maritime Administration it is the Joint Rescue Co-Ordination Centre, JRCC, that his responsible for the ICE Information service.
The service includes:
Receive notification of passage (ATP) from vessels, as well as provide the first information about the ice situation, the location of the icebreakers and dirways.
Receive arrival notification.
Receive departure notification, and in connection with departure give the latest information to the ships
ICE Info forwards the information to those concerned, through the joint system IBNet.
ICE Info provides the vessels with dirways and contact information.
If necessary, ICE Info provides contacts between icebreakers and ships.
Ice Info can be reached via phone +46 (0)10-492 76 00 or e-mail ice.info@sjofartsverket.se
Local contacts
The task of the local contacts are to:
Act as a contact person between local interests and the icebreaker management.
Report events that may affect the winter navigation.
Inform about ongoing and expected traffic.
Spread information from the icebreaker management to local actors.
Assist when the icebreaker call to port for provisions, bunkering or crew changes, etc.
Ports

Local contact

Luleå
Emma Hellström
Bay of Bothnia pilotage area
LULEÅ
Phone: +46 (0)10 - 478 60 57
E-mail: emma.hellstrom@sjofartsverket.se
Cell: +46 (0)727 - 24 60 57
Piteå
Clas-Robert Johansson
Piteå Hamn AB
PITEÅ
Phone: +46 (0)911 - 23 21 32
E-mail: clas.johansson@piteahamn.se
Skellefteå
Tomas Nilsson
Skellefte hamn
SKELLEFTEÅ
Phone: +46 (0) 910 737 955
Cell: +46 (0)73 583 05 21
E-mail: tomas.nilsson@skelleftea.se
Umeå
Patrik Rudolfsson
Kvarken Ports
Umeå hamn
UMEÅ
Phone: +46 (0)90 - 16 32 90
Cell: +46 (0)703 - 87 17 29
E-mail: patrik.rudolfsson@kvarkenports.com
Örnsköldsvik
Mikael Johansson
Örnsköldsvik Hamn och Logistik AB
ÖRNSKÖLDSVIK
Phone: +46 (0)660 - 787 14
Cell: +46 (0)706 - 32 46 15
E-mail: mikael.johansson@ovikshamn.se
Kramfors
Anders Nilsson
Gävle pilotage area Sea of Bothnia
Sundsvalls lotsstation
Phone: +46 (0)10 - 478 47 79
Cell: +46 (0)721 - 42 11 49
E-mail: anders.nilsson@sjofartsverket.se
Sundsvall
Mats Lundberg
Sundsvalls Hamn AB
SUNDSVALL
Cell: +46 (0)703 - 19 35 40
E-mail: mats.lundberg@sundsvallshamn.se
Iggesund
Kenneth Larsson
Iggesunds bruk
IGGESUND
Phone: +46 (0)650 - 284 88
Cell: +46 (0)702 - 03 67 61
E-mail: kenneth.larsson@holmen.com
Söderhamn
Gävle
Dag Tedenby
Gävle pilotage area
GÄVLE
Phone: +46 (0)10 - 478 47 71
Cell: +46 (0)708 - 19 14 36
E-mail: dag.tedenby@sjofartsverket.se
Stockholm
Per Stenhammar
Stockholms pilotage area
STOCKHOLM
Phone: +46 (0)10 - 478 48 02
Cell: +46 (0)709 - 71 83 01
E-mail: per.stenhammar@sjofartsverket.se
Södertälje
Mälaren
Susann Tolppola
Södertälje pilotage area
SÖDERTÄLJE
Tel:010 - 478 48 02
Cell: +46 (0)708 - 21 28 78
E-mail: susann.tolppola@sjofartsverket.se
Oxelösund
Norrköping
Jimmy Rosander
Bråviken lotsområde
OXELÖSUND
Phone: +46 (0)10 - 478 48 25
Cell: +46 (0)708 - 19 12 97
E-mail: jimmy.rosander@sjofartsverket.se
Västervik
Simrishamn
inklusive Öland och Gotland
Tobias Chroneer
Kalmar pilotage area
KALMAR
Phone: +46 (0)10 478 51 55
Cell: +46 (0) 702 98 88 63
E-mail: tobias.chroneer@sjofartsverket.se
Ystad
Helsingborg
Anders Alestam
Malmö pilotage area
MALMÖ
Phone: +46 (0)10 - 478 47 83
Cell: +46 (0)708 - 34 85 50
E-mail: anders.alestam@sjofartsverket.se
Halmstad
Jens Madsen
Hallands Hamnar Halmstad AB
HALMSTAD
Phone: +46 (0)35 - 15 53 00
Cell: +46 (0)708 - 50 56 35
E-mail: jens.madsen@portofhalland.se
Falkenberg
Fredrik Swenson
Edvin Svenson Skeppsmäkleri AB
FALKENBERG
Phone: +46 (0)346 - 71 54 42
Cell: +46 (0)705 - 92 96 54
E-mail: fredrik@edvin-svenson.se
Varberg
Johan Börjesson
Hallands Hamnar Varberg AB
VARBERG
Phone: +46 (0)340 - 880 00
Cell: +46 (0)706 - 57 00 47
E-mail: johan.borjesson@portofhalland.se
Göteborg
Erik Waller
Port of Gothenburg
GÖTEBORG
Phone: +46 (0)31 - 368 75 12
Cell: +46(0)722 - 55 76 83
E-mail: erik.valler@portgot.se
Marstrand
Strömstad
Daniel Runesson
Marstrand/Lysekil pilotage area
Phone: +46 (0)010-478 53 60
Cell: +46 (0)701-44 59 96
E-mail: daniel.runesson@sjofartsverket.se
Göta Älv
Trollhättan
Vänern
Susanna Olsson
Trollhättan Canal
TROLLHÄTTAN
Phone: +46(0)10 - 478 55 70
Cell: +46(0)708 - 47 22 63
E-mail: susanna.olsson@sjofartsverket.se