Pilot Boarding
Pilot boarding procedures in Gothenburg.
All ships using pilotservice provided by the Swedish Maritime Administration are requested to have pilot ladders rigged in strict accordance with SOLAS and International Marine Pilots Association (refer IMPA Pilot Ladder Arrangement Plan) requirements.
Download: Safe Boarding Checklist
Where the vessel's freeboard exceeds 9 metres, requiring a combination pilot ladder arrangement, the lower platform of the fixed "accommodation" ladder must be horizontal, about 6 metres above the water and be secured to the ship's side. The manropes and pilot ladder must be secured to the ship's side about one point five (1.5) metres above the fixed platform.
Pilot Area Gothenburg
Vessels are requested to provide a good lee and maintain a speed of eight (8) knots when embarking or disembarking the pilot. The bottom of the pilot ladder shall be two (2) meters above the water. In winterseason, when ice situation requires smaller pilot boats, one point five (1.5) meter is more suitable.
Vessel will be boarded at the following positions: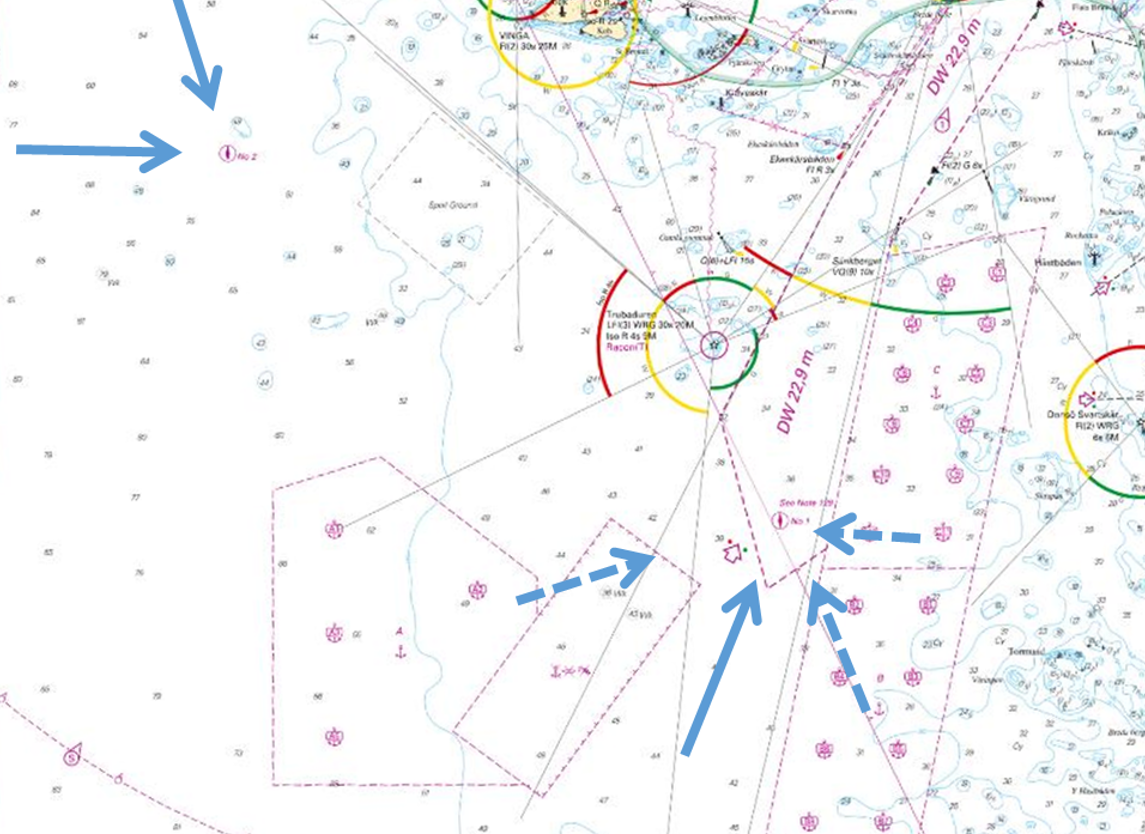 Pilot station

Boarding position

Position

Göteborg Boarding #1
S of Trubaduren lighthouse.
For vessels arriving from south or from anchorage areas.
N 57 34,5
E 11 38,8
Göteborg Boarding #2
WSW of Vinga Island.
For vessels arrivng from west or north.
N 57 37,0
E 11 31,9
Göteborg Boarding #3
W of Vinga "approach light buoy".
For vessels with special argeement.
N 57 38,8
E 11 32,5
Göteborg
VLCC
W of Vinga.
N 57 38,5
E 11 29,9
Göteborg
Skandiahamnen
S of berth 520.
For vessels boarding river pilot.
N 57 41,18
E 11 52,12
Göteborg
Rivö Fjord
At center of Rivö Fjord.
For vessels with compulsory pilotage east of Skandia terminal or captains holding PEC.
N 57 40,2
E 11 47,6
Boarding positions may be changed after instructions from Gothenburg Pilot.
Attention! Adjust speed in order not to pass the boarding position before boarding, if not agreed by the pilot.
Before departure: Contact Gothenburg Pilot one hour prior to departure to confirm pilot boarding arrangement.