Gothenburg - Rosenhill Seamen's Center
Rosenhill Seamen's Center is our largest facility and is located at Hisingen in Gothenburg.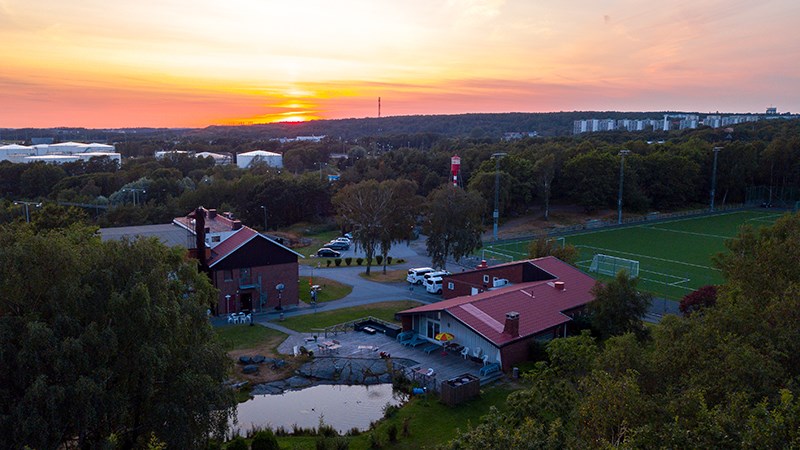 In Gothenburg you'll find one of the most well-equipped seafarers' centers of the world. Seafarers from all ships in port are offered transportation to the center and back again.
We provide a calm and cozy place where you can spend your time in the cafeteria or in the swimming-pool. For those engaged in sports, there are a variety of opportunities in the sports hall or in one of our football pitches with artificial grass. If you are interested in track and field sports you may use our tartan track, put the shot, try a long jump or run a turn around our jogging track. We have trained staff members who coordinate and lead team events. You can also get fitness advice and individual training guidance.
Rosenhill also offer a computer park from where you may read your e-mail or find Internet news from home. In our reception you can mail your letters and exchange major currencies.
Don't forget to visit the Swedish Seamen's Library during your stay on Rosenhill.
Download the Welcome to Gothenburg-folder as a PDF in this link.
Contact
Rosenhill Seamen's Center
Köpenhamnsgatan 25
418 77 Gothenburg
Tel +46 (0)10-478 49 55
rosenhill@sjofartsverket.se
Manager: Agneta Swenson
Opening hours
Rosenhill is staffed at the following times:
Mon-Fri 10am-10pm
Sat-Sun 12pm-6pm
ATTENTION!
29 November - closed due to conference

Vessels in port will be contacted by E-mail.
If you plan to visit us, it is important that you:
Stay at home in case of covid-19-related symptoms.
Wash your hands often and thoroughly and use hand disinfection.
Disinfect gym machines and training equipment, both before and after use.