Bridges and Locks
Trollhätte canal is 82 km long. Of this, 10 km is a dug and blasted channel, the rest is a natural fairway in the Göta River. On the route you pass 12 bridges, 3 of which are fixed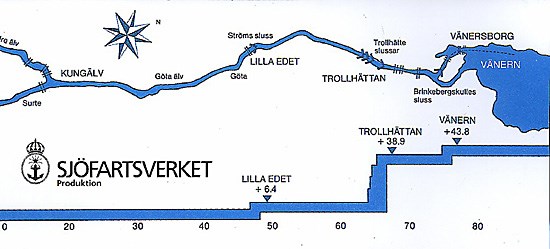 The difference in level of a total of 44 meters is managed by six locks, one at Lilla Edet where the difference is 6 meters, four locks at Trollhättan with a total difference in level of about 32 meters and one at Brinkebergskulle of about 6 meters.
The locks are of modern construction with electrical/mechanical operation of hatches and gates. Double bottoms mean that the water is distributed evenly over the entire lock. It provides quiet water movements during both filling and emptying.
A sluice requires 8000-12000 m3 of water. The water depth in the fairway is at least 6.3 metres. In the locks, the depth of the threshold is 5.7 meters at the lowest water level. There are a large number of fairway markings in the canal and river.
Facts power lines
The distance from the water surface to the lowest point of the lines is 27 meters.
Bridges
| | |
| --- | --- |
| Göta Älv / Trollhätte Kanal | Sail free height |
| Älvsborgsbron | 45,0 meter |
| Hisingsbron | 12,0 meter |
| Marieholmsbron | 5,6 meter |
| Angeredsbron | 47,0 meter |
| Jordfallsbron | 11,0 meter |
| Lilla Edetbron | 10,0 meter |
| Klaffbron, Trollhättan | 3,5 meter |
| Railway bridge, Trollhättan | 2,8 meter (27 meters in raised position) |
| Stallbackabron | 28,0 meter |
| Gropbron, Vänersborg | 4,0 meter |
| Railway bridge, Vänersborg | 2,0 meter |
| Dalbobron | 15,5 - 17,0 meter |
| | |
| --- | --- |
| Nordre Älv | |
| Kungälv, Bohusbron / Nordre älvs landsvägsbro | 5,2 meter |
| Kungälv, motorvägsbron (not openable) | 12,5 meter |
| Ytterby järnvägsbron (not openable) | 12,5 meter |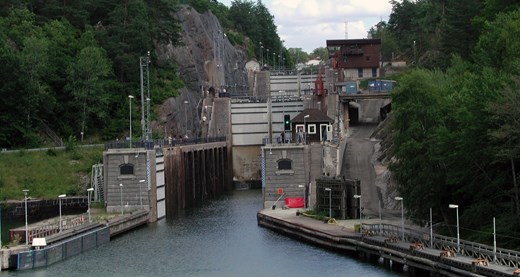 Maximum permitted size of vessels in the locks
| | |
| --- | --- |
| Maximum length | 87,00 meter |
| Max width | 12,70 meter |
| Maximum depth | 4,70 meter |
With special permission from the Swedish Maritime Administration, larger ships can be allowed up to
| | |
| --- | --- |
| Maximum length | 89,00 meter |
| Max width | 13,40 meter |
| Maximum depth | 5,40 meter |