Nautical Information
Nautical information to mariners calling pilot area Gothenburg and preparing a passage plan or studying for Pilot Exemption Certificate. The information is a complement to valid nautical charts, Notices to Mariners (NtM), navigational warnings and information given at the Port of Gothenburg website.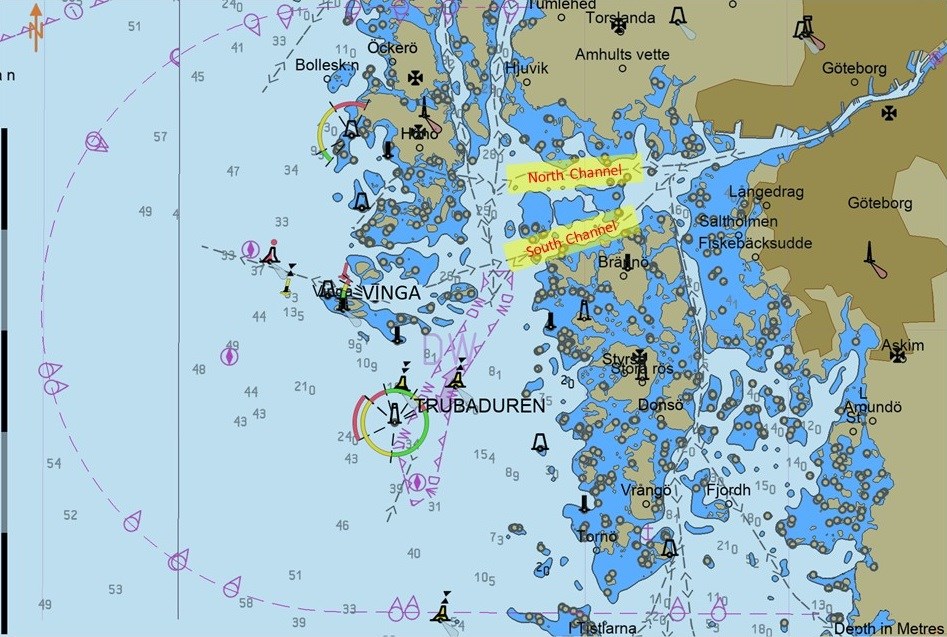 Fairways
From sea, south of Trubaduren lighthouse, there is a deep water route for maximum draught 18.9 m passing Vinga Sand, Dana Fjord and the northern part of Hake Fjord ending up at Tor Harbour crude oil terminal. From Trubaduren up to Dana Fjord the fairway offers minimum depth of 22.9 m. From Dana Fjord to Tor Harbour, named the North Channel (Tor harbour fairway), the fairway is dredged to 20.5 m. The fairway is 540-320 m wide.
The South Channel (Böttö fairway) pass over the south part of Hake Fjord and connect Vinga Sand with Rivö Fjord. The fairway allows maximum draught 13.0 m. From Böttö to Rivö Fjord the fairway offers minimum depth of 15.8 m and from Rivö Fjord to the Älvsborg Fortress a depth of 14.7 m. Beware that the South Channel is frequently used by ferries and that the current may be severe at Böttö. Vessels should always be prepared to use the North Channel if the traffic situation requires.
In order to perform a controlled turn of large vessels passing Böttö the Trinda Brunskär racon may serve as a reference point (centre of turn). This racon may be used for radius control during the turn, so the vessel will properly end up on next course. Inbound vessels should keep radius 0.8 M and outbound 0.9 M, creating one cable separation.
From sea, west of Vinga, to Vinga Sand there is Vinga fairway, which allows maximum draught 8.5 m in daylight and maximum draught 6.5 m in dark. North Vinga the current often crossing the fairway. Wind and current not always set in the same direction and may change rapidly. Several groundings have occurred during the past decades. Note: Compulsory pilotage for this fairway apply to all vessels exceedeing L>70m, B>14m or Dft>4.5m (cat 2 and 3).
The fairway south Skandia harbour is framed to 14.2 m at mean water (MW) and south of Skarvik harbour the depth is framed to 13.2 m at MW.
The fairway up the Göta River, between Skarvik and Rya is framed to 10.0 m at MW allowing maximum draught 9.3 m. Between Rya and Lindholmen the depth is 8.4 m at MW which allows maximum draught 7.7 m. From Lindholmen up to the Free Port the depth is 7.4 m at MW allowing maximum draught 6.7 m.
Along the coastal northern archipelago, from Hätteberget down to Dana Fjord, there is an inshore fairway which allows maximum draught 4.5 m.
In the south archipelago, from Tistlarna to Rivö Fjord, there is an inshore fairway which allows 7.0 m draft. In good visibility this fairway is entered from south by heading course 012 degrees into the leading line Matskär – Stora Rös on Styrsö island. West of this leading line, abeam the shallow Knalten, there is a 12 m shallow which should be avoided in heavy sea. During strong southerly winds current and sea may be severe between Matskär and Matskärsbåden.
Älvsborg Bridge
Hang bridge with 418 m span and 45 m free vertical clearance over MHSL at a width of 100 m. The area on the bridge where 45 m free vertical clearance is in force is marked with blue- and white signs and floodlight.
For information about bridges upstreams the Freeport: Pilot Area Vänern
Anchoring prohibited
Anchoring is prohibited in the following areas, the mined areas of Hake Fjord, the mined areas east and northeast of Donsö island and in the harbour area of Port of Gothenburg. The limits for mined areas and the harbour area are marked in the Swedish Nautical Chart 9313.
Speed restrictions
Maximum allowed speed of 8 knots is allowed within the area defined by below WGS-84 positions.
1. 57-40,65N 11-51,13E
2. 57-41,08N 11-50,30E
3. 57-41,18N 11-50,34E
4. 57-41,31N 11-50,74E
5. 57-42,34N 11-56,65E
6. 57-42,12N 11-56,80E
Maximum allowed speed of 5 knots is allowed within the area defined by below WGS-84 positions.
1. 57-42,12N 11-56,80E
2. 57-42,34N 11-56,65E
3. 57-45,82N 12-0,02E
4. 57-45,78N 12-0,12E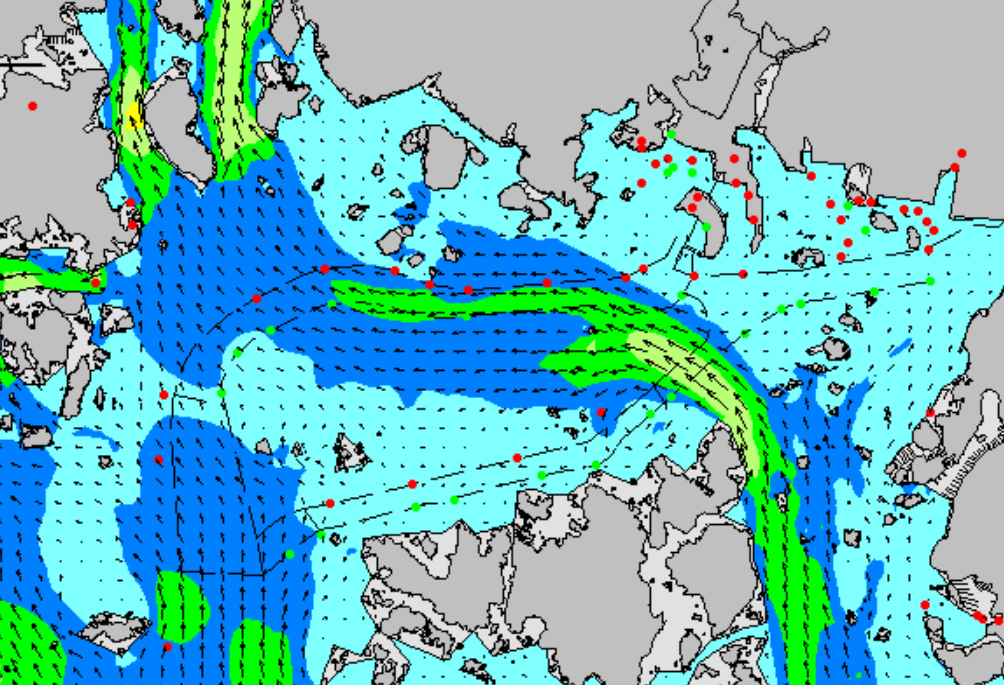 Current
In the fairways through the archipelago of Gothenburg the current may under certain circumstances be severe. Areas of special attention are described under "Fairways" above. Illustration below shows a common scenario, but may rapidly change due to change in weather and water level. Present readings are given via AIS and/or ViVa. Forecast is found on Port of Gothenburg website.
In the harbour area the current is generated by fresh water coming from the lake of Vänern, and may reach maximum 2 knots. In the mouth of Göta river (area of Skandia, Skarvik and Rya) the interaction between fresh and salt water way cause varying effects on ship movements. Accordingly, please note that the sea water density varies in different levels.
Sea level
On the Swedish west coast the sea level rise during westerly winds and dip on easterly winds. In westerly storms a so called storm flood may occur and the water level may rapidly rise over one meter. Due to the varying water depth and the irregular coastline the sea level may vary from place to place. The sea level is also influenced by the atmospheric air pressure; during high pressure the sea level dip and during a low the sea level rise.
Along the coast from Hätteberget to Tistlarna following sea level characteristics occur:
Highest High Water (HHW): + 150 cm
Mean High Water (MHW): + 100 cm
Mean Sea Level (MW): 0 cm
Mean Low Water (MLW): - 70 cm
Lowest Low Water (LLW): - 120 cm
Except temporary variations of the sea level there is seasonal variations depending on the predominant atmospheric air pressure, wind directions and force. The mean value for a longer period gives the seasonal variation, which results in low sea level during spring and high sea level during late summer and autumn. From this mean progress there may be significant deviations from year to year.
Tide
The fluctuations in sea level caused by tide is here in Gothenburg maximum 24 cm (spring tide), which occurs two days before new- or full moon. The tide is of half day character, i.e. there is two high water and two low water every 24 hours. The first high water occurs abt 4,5 hrs after moon passage of the Greenwich meridian, moon GHA = 065 degrees. The second high water is 12 h 25 m later.
Shipyard
Gotenius Shipyard.
Bunker and supplies
Bunker and supplies by private companies. Fresh water, sludge removal, etc is ordered via Port of Gothenburg.